Review #7: The Coffee Station - Crawford, Texas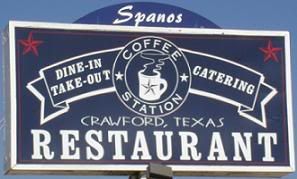 Unless you haven't turned on the TV or picked up a newspaper in the last 5 years - you probably know that President Bush has established what has become known as the "Western White House" located in a very small town named Crawford. Now I grew up just 30 minutes from Crawford and I still get a giggle everytime I see a news crew from Foxnews and the other networks mention Crawford on the air. To me - it is still a small town that nobody has ever heard of - but I guess the times have changed. Mrs. TexasBurgerGuy accompanied me to Crawford to try out The Coffee Station. This place is where our nation's 43rd president, George W. Bush gets his burger fix while he is at the Western White House.
IMPORTANT: If you haven't already, please read the Texas Burger Guy terminology post. That will help you understand this review.

The Coffee Station Cheeseburger Review
I love it when I got to a burger joint and know exactly what I am going to order. I knew days even weeks before we arrived that I was going to order exactly what W orders. He always gets the cheeseburger basket with onion rings. Both O-rings and the cheeseburger were very very good. I think I really enjoyed The Coffee Station Cheeseburger because I grew up eating the same kind of burger. Not overly beefy like a Mel's or Christian's Totem burger - just good old fashioned bun-patty-mustard-lettuce burgers. The Coffee Station Cheeseburger certainly succeeded in making me feel right at home with its good old fashioned taste and I must say a healthy dose of oooze. Here is how I see The Coffee Station Cheeseburger ranking in the Texas Burger Guy categories:
Oooze Factor
The cheeseburger arrived in a basket lined with the usual white paper. I spotted a few grease spots on the paper which put a smile on my face. Seeing that lets me know that I am in for a good greasy burger experience. After my first bite into the burger - I discovered that the grease was not just on the paper - but all in this bad boy. The patty was tender, juicy, and very very tasty. Very good oooze!
Oooze Factor Rating: 8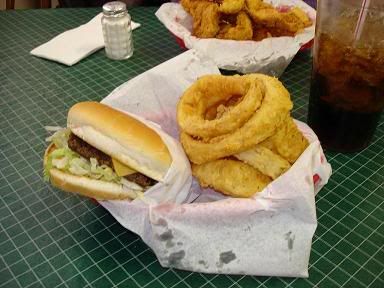 Click to enlarge

Herd Killer
While The Coffee Station Cheeseburger was not a Lankford's or Christian's monster burger - it still held its own. It was enough meat to make me pretty full - but not really stuffed to the point of wishing I had stopped eating. I think that if the patty had been any bigger - it would have overpowered the overall flavor of the burger. I am discovering that there is a formula that has to be just right. If the patty is too big - the vegetables are overpowered by the meat. Same goes for if there are too many vegetables - you lose the flavor of the meat. This meat was the perfect size and helped create a perfect overall flavor. Great flavor and just enough to fill me up!Herd Killer Rating: 7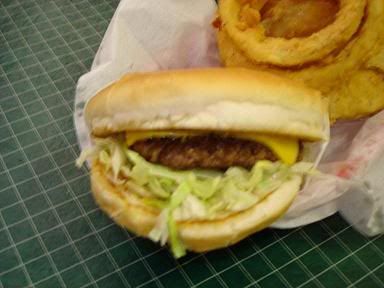 Click to enlarge

Handling
The Coffee Station Cheeseburger is definitely a 2 handed burger. There are lots of vegetables on the burger that need 2 hands to hold it all together. It wasn't more than a 2-hander but very far from being a 1-handed burger.
Handling Rating: 7

Bling Bling
Despite the tourist appeal of The Coffee Station - they did not decide to overcharge for their burger. It is priced just right for the amount of food you get. I felt very full and really enjoyed eating a very flavorful and tasty burger. Add this to the fact I was eating the same burger that President Bush eats and it was very much worth the money.
Bling Bling Rating: 8

Overall The Coffee Station Cheeseburger Rating: 8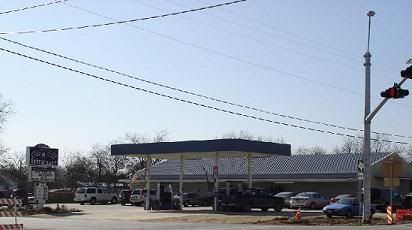 Click to enlarge

Restaurant Review
The Coffee Station is your typical small town cafe. It has all the usual menu items - chicken fried steak, salads, chicken sandwiches, etc. Mrs. TexasBurgerGuy had the chicken fingers and tots and they were pretty dang good. I managed to scarf a few down when she ran off to the restroom. :) The onion rings are a must for President Bush and I can understand why. They were absolutely awesome!!! I love a good onion ring that isn't overly greasy but isn't dry either. These were perfect! They were a little bit slimey but were covered with a very good tasting batter that had a bit of a spice to them. The spice was either intentional or somebody ordered fried jalapenos before me and I got some of that flavor in my O-rings. Fine by me because they were awesome! Highly recommend the O-rings!!
Restaurant/Atmosphere
The Coffee Station has obvious tourist appeal since it is a hangout of our president. When you walk in - you'll notice the back wall is decorated with lots of pictures of President Bush as well as some official certicates from The White House thanking The Coffee Station for their hospitality. President Bush autographed a shirt and receipt that are hanging on the wall as well. It is very cool to think that you are eating in the same place as President Bush, Laura Bush, and Colin Powell. Aside from all of this - The Coffee Station is a neat little place. It has probably 20 tables. The waitstaff (at least when we went) were high school students. They were all polite and very helpful. We even asked for directions to the Western White House from our waiter and he rattled them out. I'm sure they get asked for directions a lot. All in all - it is a one of a kind atmosphere. Very nice.

Crawford
You can't go eat at The Coffee Station and just leave Crawford. You will want to snoop around and see the sights while you are there. I thought it would be helpful to share some of the sights we saw and the places we went while in Crawford.

As you enter Crawford - you'll see right away that this is the hometown for President Bush. They are very proud of it and it shows. You'll see President Bush mentioned all over the place.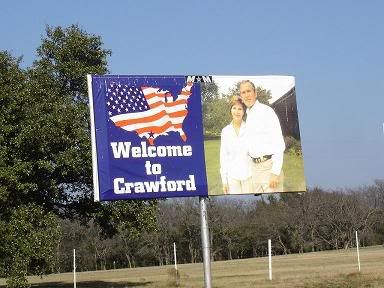 Click to enlarge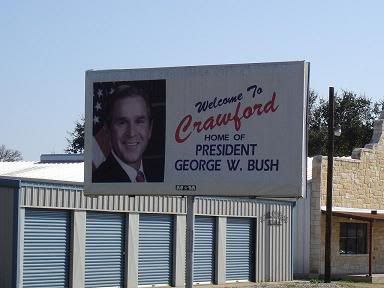 The Crawford Pirates football team won the state championship this year!! Congratulations!! Seems like there is a lot of winning going on in Crawford these days.. first their hometown son wins a second term and then their football team wins state! Crawford is on a roll!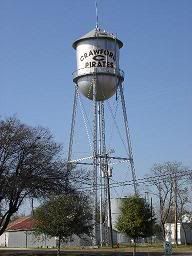 I debated on putting directions to the Western White House on the site - but I don't really like the Secret Service offering me advice on my reviews - so I decided not to post directions. BUT - if you want to get directions - you can go to The Coffee Station or any other place in town. The locals will give you directions.

As you drive out the road where the Western White House is located - and it is pretty far out of town - you will see these signs posted along the way. (see below) Be on the lookout for a secret service guy driving around in a truck too. As you drive down the road - the house will be way off the road on your right. There is an entrance gate and all sorts of Secret Service vehicles, communication equipment, all kinds of cool stuff around the entrance to the ranch. You can see the house from the road but it is way way off the road.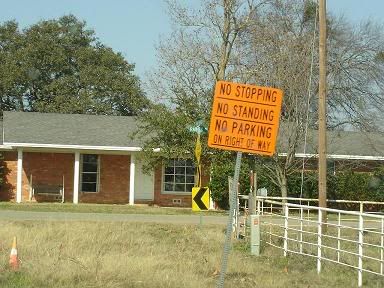 Click to enlarge

President Bush and I were hanging at the ranch. You know he is a regular reader of TexasBurgerGuy and all. He was begging me for an autograph and stuff and I'm like "W!!! Leave me alone dude!!!!" We took some pictures that I was going to post here - but my hair was messed up and lighting was all bad. If you haven't seen President Bush before - here is a picture of him: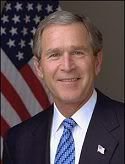 I may have made up some stuff just then.

All in all Crawford is a great little Texas town. I really enjoyed the visit there. The people I spoke with at The Coffee Station and one of the antique shops (Mrs. TexasBurgerGuy request - NOT mine) were very nice and polite - just what you would expect from a small town in Texas. Seeing the Western White House - even from a distance was pretty cool since I have seen it on TV many times. The best for me though was the burger joint that President Bush frequents. Good atmosphere, nice people and a very good burger!!


Directions
Finding the restaurant in Crawford is not that hard. Finding Crawford might be. Here are directions to Crawford:

From Waco:
Go North on Hwy 6
You'll come to an intersection with 2 gas stations and a bank
That is the intersection of 185 and Hwy 6
Hang a left
185 takes you all the way there. The Coffee Station will be on your left when you get to the light in Crawford.

Address/Phone:
6659 N Lone Star Pkwy
Crawford, TX 76638
254.486.2561

Map: The Coffee Station Map

TBG Overall Rating
The Coffee Station is definitely a place I would like to go back and eat at again. Maybe next time we'll go when the President is in town. I would freak if I got to share a burger with President Bush at the Coffee Station. Getting past all the "neatness" of being where President Bush visits - the food at The Coffee Station is very good - especially the burger and onion rings. If you have some time on a weekend and want to make the trip to Crawford - I highly recommend it. You'll be met with friendly people, excellent burgers, and you'll leave with a story to tell.
Overall TBG Rating for The Coffee Station: 8

Other Reviews of The Coffee Station:
Chefmoz Dining Guide Review